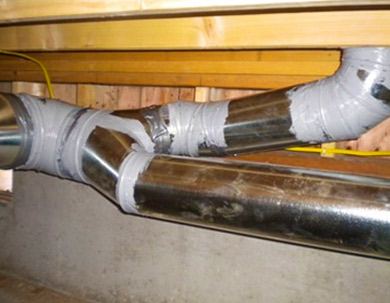 Air Duct Sealing
They can be hard to see, but gaps in your air ducts can cause a lot of problems in your home. Not only does air escape through these gaps, making your heating and cooling system work harder to heat and cool your home, but unhealthy particles, pollen, dust, pet dander and other allergens can escape through these gaps in the ductwork. Improve the indoor air quality of your home with our professional air duct sealing services.
Gaps in your ductwork? Call LIBERTYAIR!
Reliable Air Duct Sealing
Duct sealing is an important step in keeping your home's indoor air quality pure. In addition to creating a more breathable air quality, duct sealing can also help reduce your monthly energy costs.
Heating, ventilation and air conditioning (HVAC) systems in Florida often run continuously all year due to the extreme heat and humidity we experience. During the use of HVAC systems, dust, pollen and other particles and allergens are pulled into the ductwork. These particles build up over time and can escape through tiny holes and gaps in the ductwork which can be caused by normal wear and tear, exposed ductwork being nudged or bumped, or mishaps that can easily occur during remodeling or addition building in any home. Improper maintenance or cleaning can also cause ductwork to loosen at joints, creating gaps through which dust and particles escape.
Professional air duct sealing not only prevents these pollutants and allergens from spewing into your home's air, but sealing the ducts properly can also extend the life of your ductwork and HVAC systems. At LIBERTYAIR, our duct sealing technicians follow a systematic duct cleaning process that ensures any gaps are filled.
The Difference Professional Duct Sealing Can Make
Homeowners in Gainesville and the surrounding North Central Florida region rely on LIBERTYAIR for quality duct sealing services to improve the indoor air quality of their homes. When you choose LIBERTYAIR, you get reliable and professional air duct sealing completed in a timely and convenient manner.
Our duct sealing process begins with a thorough inspection of all of your home's ductwork. This allows us to not only find gaps in the ductwork but to also investigate leaks and other concerns. We can also better identify obstructions in the ductwork — such as cleaning cloths or toys that have been dropped through the vents — which can be causing a strain on your HVAC system.
In order to ensure that any gaps or leaks are filled properly, we use a special sealant when needed, but our air duct technicians are also trained to manually adjust the ductwork to fix larger gaps. In the case of ductwork that has become compromised, dented or otherwise damaged, our technicians can repair or replace ductwork so that your home remains free of pollutants and allergy-causing particles.
Don't Wait Until It's Too Late!
Ignoring gaps in your ductwork is never a good idea. LIBERTYAIR offers affordable duct cleaning, sealing and repair services so that the indoor air quality of your home can improve or remain at safe levels. By scheduling regular duct cleaning services, you can help ensure that gaps and leaks in your air ducts are identified before they cause any issues. Keep your energy bills low and your air quality high with our superior duct cleaning, sealing and repair services.