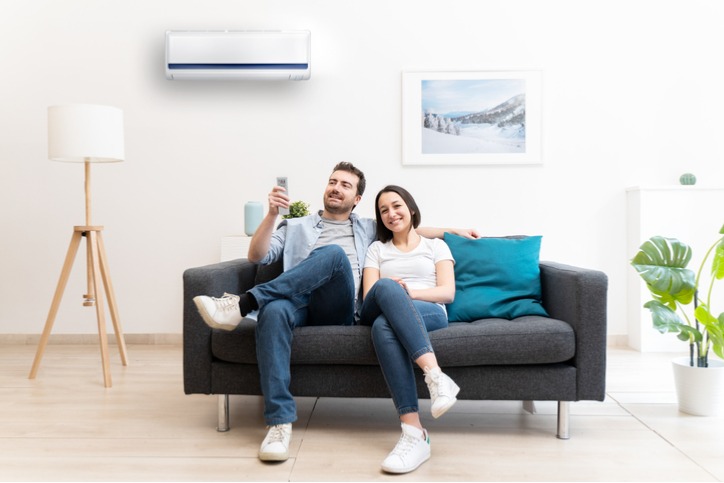 4 Tips To Help Homeowners Maintain Indoor Air
Quality
A home's indoor air quality can significantly affect its residents' health, especially if members of the household suffer from allergies. Poor indoor air quality can result in discomfort and unsavory health outcomes, including headaches, fatigue, dry eyes, irritated throat, dizziness, coughing, sneezing, and more. Nobody wants to be uncomfortable in their own home, so it's only natural homeowners want to know how to maintain healthy indoor air quality. Below, the experienced technicians with our HVAC repair company share four easy tips to help homeowners maintain healthy indoor air quality!
Contact LIBERTYAIR Air Conditioning & Heating today to request indoor air quality services!
Clean Your Home
For many reasons, indoor air quality included, a clean home is a healthier home. Regularly vacuuming, washing fabrics, and thoroughly dusting around the home can help homeowners maintain a healthy indoor air quality. In particular, it's important to routinely vacuum your home's carpeting, rugs, and other fabrics that could trap allergens, pet dander, and other air pollutants.
Change Your Air Filters
Regularly changing your air filters before they become dirty or clogged is one of the most effective ways to maintain your home's indoor air quality. Generally, most HVAC companies and technicians recommend swapping your air filters at least every 90 days. However, if you have a pet, you should consider replacing your air filters every 60 days or every 20-45 days if you have more than one pet.
Get Some Houseplants
Houseplants are more than just lively decorations for your home. They're also a great way to maintain your home's indoor air quality. This is because air-filtering houseplants pulls in your home's air and cleanse it of pollutants before releasing it as oxygen. Brighten your home and improve indoor air quality by decorating with a few of your favorite air-filtering houseplants.
Invest In Air Purifiers
If you suffer from allergies or other respiratory issues, an in-duct air purifier could be an excellent investment that helps improve your home's indoor air quality. Air filters and regular air duct cleaning are excellent ways to improve your home's air quality, but we recommend in-duct air purifiers for all Florida homeowners. In-duct air purifying systems neutralize pollutants, allergens, dust, odors, and particles before they can escape your ducts and affect your family.