Frequently

Asked
Questions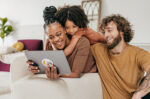 Frequently Asked Questions
We accept all forms of payment, including cash, checks, debit, Visa and MasterCard.
Routine maintenance is a tune-up of an air conditioning and heating unit. At LIBERTYAIR, we recommend doing this twice a year: one for the cooling components of the system and another for the heating components.
When an HVAC system is properly maintained with regular tune-ups and filtered properly, then duct cleaning is unnecessary. That is why LIBERTYAIR encourages routine maintenance, which includes the cleaning of your existing filter or replacing it if you need a new one.
We work with all major manufacturers, including American Standard, Goodman, Amana and York and their warranty departments.
We charge $82.88 for a diagnostic fee to determine what – if anything – is wrong with your system. If there is something wrong, we will inform you of the problem and the price to remedy it. Only then do we charge for the parts used; parts are not included in the $82.88 diagnostic fee.
Yes. We want to ensure your safety, as well as that of your whole family. Therefore, we run full background checks on all our employees and contractors. These may include: legal status, drug tests, and credit checks.
We provide service for the Gainesville metro area, including Newberry and Jonesville. Additionally, we serve Alachua, High Springs, and Micanopy. We've even made the occasional trip down to The Villages near Ocala. Call us and we'll let you know if we can help.
AFUE stands for "Annual Fuel Utilization Efficiency." AFUE is exactly like SEER, except it pertains to gas and heat, instead of cooling. The higher the AFUE, the less money you'll spend warming your home during those bitter winter months.
Customers who have an ESA get 15% discounts on all parts and labor and receive priority service, which means they're immediately put first on our service call list.
New equipment comes with a standard 10-year manufacturer's warranty. However, we feel that that's not enough for our customers. LIBERTYAIR offers an additional one-year guarantee. We warranty all smaller parts and labor for one year following installation.
We believe in doing things the old-fashioned way: we understand the importance of having reliable and safe employees whom we can trust to visit our customers' homes and workplaces. We do extensive background checks on all of our contractors to make sure that they are drug-free and that their credit is clean.
Although we're a young business, we believe in doing some things the old-fashioned way, especially when it comes to service and integrity. Therefore, we'll only hire and work with people who we feel have the same values and work ethic that we have.
We provide free estimates for new systems. Additionally, we do not charge for overtime.
LIBERTYAIR was established in Gainesville in 2007 by Philip Ferrara, who has over 16 years of experience working as an AC technician for various manufacturers, including American Standard. Between Philip's expertise and our other HVAC technicians' experience, the LIBERTYAIR team has over 65 years of combined air conditioning and heating service and installation experience.
Yes. Feel free to call us if you receive a quote from another company and want additional information from us.
Please visit the IAQ section of our site to learn more about IAQ and see why we feel it's crucial to your and your family's comfort and health. You can also visit our Facebook page to learn more about the importance of IAQ.
SEER stands for "Seasonal Energy Efficiency Rating." It refers to the cooling capacity of an AC system. This can be equivocated to the miles per gallon (mpg) on a car. The higher the mpg on a car, the more efficient it is. Therefore, the higher the SEER on an air conditioner, the more efficient it is. What that boils down to is more money in your pocket because your unit will use less energy and cost less to operate.
Yes, however, we provide free estimates on new system installations only. Additionally, we will also provide a free second opinion.