LIBERTYAIR is the answer to all of your HVAC troubles, including installation, service & repair, and planned maintenance to keep your air conditioner or heater running smoothly year-round in Tioga, FL.
You can count on our dependable and professional team members to arrive promptly and provide you and your family with quality service. Our goal is to get your A/C or heating unit repaired quickly and efficiently, whether it's a standard fix or emergency service.
There's never an overtime charge with us.
Did you know that planned maintenance on your in-home HVAC system can complement a Green Living lifestyle?
LIBERTYAIR offers a plethora of A/C planned maintenance services to help prolong the life cycle of your system. These methods also help your air conditioner, heater and even thermostat save energy and lower your monthly utility bills. Call us to find out more about the many advantages of regular HVAC planned maintenance.
A company you can trust.
At LIBERTYAIR, we strive to serve the Tioga, FL, in every aspect. Not only do we specialize in in-home service, installation and emergency repairs, but we offer the most competitive light commercial HVAC services in Alachua County. Whether you're a homeowner in Town of Tioga, a property owner, or you operate one of the many businesses in Tioga Town Center, you can rely on us.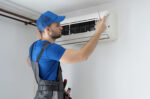 Your Neighborhood A/C & Heating Repair Company.
Who can you call when your A/C stops working in the middle of Florida's stifling summer?
Or when your heat fails in the middle of the night in February?
Our technicians are all highly trained to quickly investigate and identify a myriad of issues that can cause an A/C or heater to give out. We service nearly every major brand of air conditioners and heat sources, including gas furnaces, heat pumps and electric home heaters.
Keep Your Home's Air Clean and Pure.
The quality of the air in your home can suffer over time. Dust, debris, pollen, pet dander and many other tiny particles build up in your air vents and in small crevices within the ducts and A/C and heater components. These particles can exacerbate allergies and asthma and cause respiratory issues for children, pets and elderly adults. In-duct air purifiers and air duct cleaning services can help restore the air in your home so you can breathe easier.
Having trouble with your heat? Call LIBERTYAIR!
If your furnace, heat pump or heater isn't heating your home properly, call in the professionals. We have experience repairing nearly every major brand of residential heating systems, and we know just what to do if the air isn't heating, if there's no air flow, if there's a burning smell present and many other common problem associated with heaters in Florida.
No A/C? No Problem!
Just an hour or two without air conditioning in Florida can become dangerous. Pets who are locked indoors, or elderly adults who require assistance to leave their homes, can quickly become dehydrated and at risk for several health concerns. Call our A/C emergency repair line to receive fast and affordable service so your home can get back to being cool and comfortable.
Many residents in Alachua County stay cool in the summer by visiting their favorite shopping and retail outlets in Tioga Town Center. But if your A/C isn't working, then you're losing plenty of customers and revenue. Call LIBERTYAIR to stay cool this summer.
We are proud to serve Tioga, Gainesville, Newberry, Alachua, Williston, Archer, Haile, Micanopy and the surrounding North Central Florida region.
Call us today to schedule an appointment.