We guarantee our work with a 12-month warranty on parts and labor. We strive to do the job right the first time and we use quality parts that are built to last.
Our commitment to our customers is to provide honest service with competitive prices and a job done with a standard of excellence.
Customers often ask why we never charge overtime rates. The reason we do not charge overtime is a commitment we have to our customers. Many times our customers realize their homes are not cooling or heating AFTER they return home from work or on the weekends. We do not penalize our customer for calling LIBERTYAIR Air Conditioning & Heating after they get home from work or because their system decides to break on the weekends.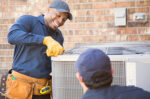 At LIBERTYAIR, We'll Do Whatever We Can To Make Sure That:
You are comfortable.
You keep money in your pocket.
You are more than satisfied with our service.
You continue to be a LIBERTYAIR customer.
You feel confident to refer our services.
You stay cool.