Electric

Heating
Installation & Repair
No matter where you bought your electric heat system, we can install, service and repair all of the name brand systems in Gainesville. Heat pumps, forced air systems and mini-split systems are trouble for our experienced professionals. Get the highest quality of heating repair and maintenance with LIBERTYAIR.
Trouble with your electric heater? Call LIBERTYAIR!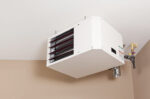 Gainesville Electric Heating Service & Repair
While electric appliances are a common source to heat homes in North Central Florida, they can also be dangerous if you try to repair or service the appliances without proper training or knowledge. If you're experiencing an issue with your electric heater — heater not working, no warm air or breaker tripping — contact LIBERTYAIR. Our heating technicians provide fast, reliable and courteous service. We'll get your home back to being warm and comfortable.
Electric Heat Pumps, Central Heating Systems & Electric Furnaces
Electric heating systems are easier to install than other types of heating, which can help Florida homeowners keep costs to a minimum. And since electric heating doesn't require pipe work, installation can be completed quickly which is a big advantage if you're replacing a heating system after cold weather has hit. At LIBERTYAIR, our electric heat technicians are experienced in working with all of the major manufacturers so you can rely on us to have your heating system up and running quickly while offering the utmost safety to you and your family.
In Gainesville, electric heating systems are popular with homeowners and property owners due to the high energy efficiency that electric heat offers. This can be a huge selling point for property owners and landlords in obtaining tenants. As prices for fuel and electricity fluctuate often, it can be confusing trying to determine which option is truly a low-cost choice. One thing to keep in mind is that electric heating is more efficient than gas because all of the electricity used is converted to heat. That means electric heating systems can be considered 100% efficient, whereas gas furnaces may only be 80%-90% efficient. Each type of heating equipment can vary, so you may find variances in efficiency on newer models compared to older models.
Low-Maintenance Options
Electric heat pumps, central heating systems and electric furnaces are all considered low-maintenance heating options. Electric heating appliances tend to have fewer moving parts that can become worn out or accumulate dust, grease or other debris. There is also no required annual maintenance for electric heating systems, however, we strongly advise to have your heating and cooling equipment maintenanced regularly. Through scheduled service, LIBERTYAIR can not only provide planned maintenance and cleaning but identify trouble areas before they cause damage to the entire system.
If you rely on electric heating, whether it's through a heat pump, furnace, heating and cooling unit, electric baseboards or portable electric heating appliances, count on LIBERTYAIR to handle all of your installation, maintenance and repair needs. Our professional heating technicians are available from 7 a.m. to 11 p.m., Monday through Saturday to remediate any heating situation, and we never charge an overtime fee. We strive to ensure that every customer receives the highest quality of service and satisfaction.