Common Air Conditioning Repairs in Newberry
Frozen Coils?
No Air Flow?
Not Cooling?
If your air conditioner isn't working, call the professionals at LIBERTYAIR!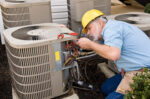 Frozen A/C Coils, Even When It's Hot?
It seems impossible that an air conditioner's evaporator coils could freeze when the temperatures rise in Newberry, but it's a fairly common issue that usually results from restricted airflow, electrical issues, or even problems during the heat exchange process.
Thankfully, the experienced A/C technicians at LIBERTYAIR have encountered plenty of frozen coils before. While a frozen coil isn't usually severe, it is a symptom of a larger underlying problem. If you notice that the evaporator coils on your air conditioner are freezing, turn off the cooling unit and call us right away. As a leader in heating & cooling repairs in North Central Florida, we provide services from 7 a.m. to 11 p.m., Monday through Saturday. Have an emergency? Call us right away!
No Airflow? Don't Sweat It — Call LIBERTYAIR!
If there's no air coming out of your vents, and the air conditioner is switched to the "on" setting, any number of things could be the cause. Frozen coils, broken fan, air duct obstruction or dirty air filters may be the cause of your A/C on the fritz. However, it can be difficult to find the cause when the temperature inside your home is quickly rising. Don't put your health, or the well-being of your family and pets, in danger as Florida temperatures soar. Call the trusted A/C repair technicians of LIBERTYAIR.
We have extensive experience on the maintenance, service, repair and installation of all of the top brands in air conditioning, including American Standard, Amana, Goodman, Carrier, Rheem, Bryant, Lennox, Comfortmaker, Tempstar and York. If you're experiencing an air conditioner issue, we'll do our best to repair and service the unit. However, some problems may require a new air conditioning system, and our technicians are trained in professional installations of many brands.
What To Do If Your A/C Isn't Cooling The Air
Airflow that feels warm to the touch can be indicative of a faulty thermostat, condenser fan, condenser fan motor, obstruction in the equipment, blown fuses and tripped circuit breakers. Because many of these issues involve electric wiring, we recommend calling our A/C repair technicians just minutes from Newberry, Florida, to investigate.
When your air conditioner isn't properly cooling the air, call us for emergency services. Unfortunately, summertime in Florida is one of the busiest seasons for air conditioning repairs and installations because so many units are neglected throughout the winter. Without proper spring maintenance, these same systems are being overworked as the temperatures rise outside.
Stop A/C Troubles Before They Start!
Summer is no time to put off having LIBERTYAIR maintenance your air conditioner. Often, small leaks and other issues that are not taken care of in a timely manner become expensive repairs, or worse, replacements. Avoid needing to install a new air conditioner during the hottest months of the year by having your a/c unit maintained regularly.
At LIBERTYAIR, our air conditioning technicians are skilled at cleaning air ducts and vents to help improve the airflow in your home, which can also help lower your cooling costs. We also evaluate the air filters, as dirty air filters can obstruct air flow, forcing your air conditioner to work harder to cool your home. We recommend having your heating and cooling system checked at least twice a year to keep it running smoothly. If you haven't already, contact us to schedule maintenance on your air conditioner so you can stay cool all summer long.