We are your home for professional A/C repair in High Springs, Florida.
Our team is comprised of qualified, skilled technicians who provide maintenance, service and repairs for many of the top names in home cooling systems. We work hard to provide you with the best service in North Central Florida, and and our technicians are available from 7 a.m. to 11 p.m., Monday through Saturday.
There's never an overtime charge when you choose LIBERTYAIR.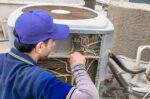 High Springs A/C Repair & Maintenance
Who will you turn to when your air conditioner breaks?
For all your A/C repairs in High Springs, call LIBERTYAIR! Summertime in Florida is probably the worst time for air conditioners. Many systems run all day to try and maintain a comfortable temperature, but this added stress can cause even new systems to break down. If you're experiencing frozen coils, no cold air, no air at all, or any other air conditioning issues, call us right away.
Beat the heat with a new A/C!
When your old air conditioner just can't cut it anymore, we'll help you choose a new unit and install it for you in a no-hassle, convenient way. Our technicians are ready to help you keep your home cool while staying on budget. Older air conditioning units can use more than twice the energy of newer, energy-efficient models. If you're ready for a change to home comfort and affordable utility bills, give us a call.
Avoid untimely A/C woes with planned maintenance.
Did you know that having your air conditioner serviced twice a year can add years to its lifecycle? It's not too late to give your A/C some TLC so that it can last through Florida's hottest days. We recommend replacing the air filter, cleaning the air ducts of dust and debris, cleaning the cooling system, and checking the air conditioner for leaks and faulty parts. This simple process can save you thousands of dollars down the road that would be spent on repairs.
Air conditioning maintenance can improve the quality of indoor air.
Dust, debris, pet dander and allergens accumulate in the vents and air ducts of your home. This can cause airflow to be restricted, making it seem like the air conditioner isn't functioning properly. It can also lead to you adjusting the thermostat, making the A/C work harder to return to the normal levels of cooling and airflow. By simply removing the allergens, dust and debris, we can increase the airflow of your A/C. Getting rid of all that dust and debris is better for you and family as you are no longer exposed to it.
With a properly working A/C, you won't notice it all.
If your air conditioner seems to be running non-stop, then it may be a sign that something is wrong. Air conditioners that struggle to maintain reasonable temperatures may be trying to combat obstructive air ducts, faulty thermostats or even leaks. Don't watch your utility bill skyrocket just for being comfortable in your home. Let us help you find ways to prolong the life of your heating and cooling system.
No matter what problems you encounter, you can trust that LIBERTYAIR will always be there for you to return your home to its normal level of comfort. Call us for air conditioning repairs, maintenance, service or even installations in and around the High Springs areas, Monday through Saturday.