When your heater, furnace or heat pump isn't heating the air properly, call Gainesville's leading heating and cooling emergency repair service, LIBERTYAIR. No matter the type of heat source on which you rely or the brand of your heating system, our emergency heating service technicians can quickly diagnose the problem and get your home back to a comfortable temperature.
Learn about Common Winter Heating Problems with LIBERTYAIR.
No heat? LIBERTYAIR is here for you!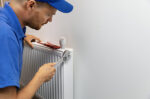 Air Not Heating? Call LIBERTYAIR
Although we don't often encounter snowfalls or freezing temperatures in Florida, maintaining a comfortable indoor climate is a must for the health of your family. When temperatures start to dip inside your home, your family and pets can be at risk. There are plenty of things that can go wrong with heating systems, heat pumps and furnaces. One of the common problems we encounter every winter is a heating system that fails to warm the air, resulting in cool or cold air being pushed through the vents. Because the air is unheated, it can feel as though the air conditioner is running! If you feel cool air coming through your vents instead of warm air, contact LIBERTYAIR for fast and reliable emergency heating service.
"No Heat" Check List
Check that heating & cooling systems are switched to the "heat" position.
Adjust the thermostat to at least 3 degrees above the current temperature of your home to see if the heating unit or fan kicks on.
Check the battery strength in electric thermostats.
For forced air units, move the thermostat control to the "fan" setting. If you cannot hear the fan turn on, or if there is no airflow from the registers, the fan may be disabled.
Furnaces often have an emergency shutoff switch. Locate the switch and turn it to the "on" position.
Some heating systems have emergency cutoff switches in place that are activated by an open access panel. Ensure all panels are closed and secured.
Check the fuse box or breaker box and see if a fuse is blown or breaker is tripped.
Check your air filter or furnace filter. Clogged and dirty filters are a leading cause to interrupted airflow!
Other common "no heat" problems include: broken/loose fan belt; broken gas igniter; or the pilot light is out.
If you've recently had a heat pump installed, then the "cool" air you feel may not be abnormal. Heat pumps do not heat air to the same temperatures as a gas furnace. The difference in the air coming out of the vents can be disconcerting to many homeowners who do not have previous experience with heat pumps. A quick check with an accurate thermometer can tell you whether the air is being heated or not.
It is possible for a heat pump to stop working properly. First, check to make sure that the air conditioning mode is not running. Low levels of refrigerant, restricted refrigerant flow, faulty compressor valves, and dirty, debris­filled systems can all lead to the air not being heated properly.
Call the Heating & Cooling Professionals
At LIBERTYAIR, our professional maintenance and repair technicians are experienced with many major brands of heating and cooling systems, furnaces and heat pumps. No matter how you heat your home, LIBERTYAIR can diagnose the cause of air left unheated and quickly address the issues. Whether you need a new heating unit, or just a few repairs, we've got you covered. We can install a variety of heating units, service existing units or repair malfunctioning units. Contact us as soon as you notice that your heater is not heating the air so we can promptly fix the problem and heat up your home.