LIBERTYAIR is Haile's leading A/C & Heating repair company. Call us for in-home or light commercial HVAC services, repairs and installation.
We are proud to serve Alachua County in North Central Florida and we strive to earn the trust of every customer we meet through our dedication and high-quality service. LIBERTYAIR is available to provide you with reliable residential, light commercial, and emergency HVAC services.
With us, there's never an overtime charge.
There's no escaping Florida's summer fury,but we can keep your home or business cool and refreshing.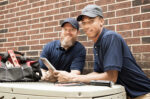 Haile, FL Air Conditioning Service & Repair
Frozen A/C coils, warm air coming through the vents and water leakage are the most common warning signs that something is amiss with your air conditioner. Not only can we quickly diagnose the issue and repair the problem when possible, but we can help keep your air conditioner in a better working condition.
Planned maintenance is the key to a longer A/C life cycle.
There are plenty of ways an air conditioner can break, but we aim to keep you cool through planned maintenance. From simple steps like replacing your A/C's air filter to more intensive maintenance like air duct cleaning, thermostat calibration, fan & motor check, and more, regularly scheduled maintenance can improve your A/C's output and performance while prolonging its life cycle.
Florida's weather is harsh on heating & cooling appliances, but we can fight back.
Even the hottest days or coldest nights are no match for a residential heating & cooling system or a light commercial HVAC unit. With LIBERTYAIR on your side, your furnace, heater or A/C can be fixed in no time. And if your HVAC unit can't be saved, we're happy to help you determine an appropriate replacement based on your needs and the needs of your family. We also offer A/C and furnace installation at an affordable price.
Don't forget about your air ducts!
Often, due to buildup of debris, dust, and allergens, the air moving through the vents becomes obstructed. This leads many people to believe that their A/C or furnace isn't working properly. Having your air ducts cleaned before the cooling season or heating season will allow your home to cool more quickly or heat up faster. Let us help keep your home comfortable before an A/C or heating issue arises.
Heating or Air Conditioning Emergency? Call LIBERTYAIR!
We provide prompt service for all of our customers, even those who have immediate A/C or heating emergency. It isn't safe for you and your family to try and eke out a cold winter's night or brutal summer afternoon, as extreme temperatures can lead to many health concerns. Don't put your health at risk — contact us today.
We are the leading A/C repair & installation company for Haile, FL, and the surrounding areas of Alachua County. We service residential and light commercial HVAC units in Haile, Newberry, Jonesville, Tioga, Alachua and High Springs.
If you're in need of professional heating and air conditioning repair, service, installation or planned maintenance, call LIBERTYAIR.