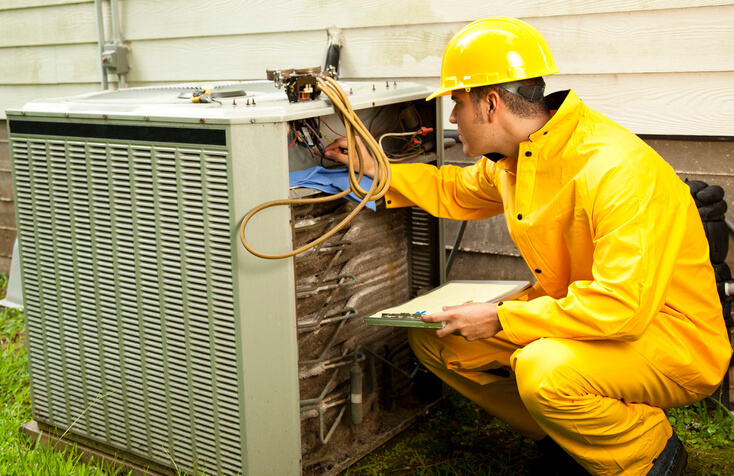 Hurricane season is a stressful time to be a homeowner. Putting up shutters, stocking up on food and water, and ensuring the safety of your family are all high on the list of necessities as a major storm approaches. After all is said and done, it's important to ensure that comfort is returned to the home and that cool AC can readily flow.
To help those impacted by a hurricane and requiring AC repair, we at LIBERTYAIR have detailed common hidden signs of AC damage to look for after a storm. Our HVAC company in High Springs is ready to help you after hurricane damage.
AC Isn't Cooling Like It Used To
Is it hotter than usual inside? Notice your AC struggling to cool, or not cooling at all? It's likely that the passing hurricane has damaged the refrigerant lines in the AC compressor. Fixing this as soon as possible is required to restore comfort and cool air to the home. A damaged refrigerant line also means escalating electric bills and even damage to the surrounding environment so pushing this off could be detrimental to the local wildlife as well as your wallet.
AC Damage From Power Surges
Loss of power is a common occurrence during major storms such as hurricanes, and just like the electronics inside of the home, outdoor AC units can also suffer damage from power surges. Damaged capacitors, blown fuses, burned wires, or a damaged compressor are all signs of potential power surge damage and should be addressed promptly.
AC Unit Making Weird Noises
Hurricanes bring with them high winds, which can result in loose debris entering outdoor AC units. Rattling, buzzing, or even screeching noises coming from the AC unit may mean that branches or other storm debris have become lodged inside. This can lead to overheating issues, lack of efficiency, and even system failure if not addressed in a timely manner. Our trained HVAC technicians can clear any debris and ensure no lasting damage occurs.
Pooled Water Around AC Unit
With close proximity to the Santa Fe River, high water levels throughout High Springs can swiftly surround homes, which means water spilling into outdoor AC units. If the AC unit at any point became submerged during the storm, there's a high chance that electrical components inside became damaged, requiring maintenance and possible replacement to restore functionality.
Repairing AC After Hurricane
The last worry any homeowner needs after a hurricane is whether or not cool air will be circulating through their home. Our professional HVAC technicians will provide a smooth and thorough air conditioning repair process, ensuring that any and all damages are rapidly addressed and comfort is promptly restored to you and your family. Let LIBERTYAIR be the AC company that helps you today.