Liberty Air

Blog
Knowledge is Cool
Whether you are experiencing loud noises, weird smells, or other oddities coming from your HVAC unit or are just looking for some ways to ensure your home is energy efficient, you've come to the right place! Out LIBERTYAIR blog is home to loads of HVAC tips, tricks, and information about Florida A/C and heating to save you money and stress! Contact us today for more information or to learn more about any of our services!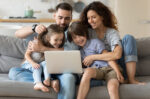 Spring Cleaning & Indoor Air Quality
March 23, 2015
Alachua County residents don't realize their home air conditioning and heating system operates approximately 3,300 hours per year. To put this "run time" in perspective, a car driven for the same 3,300 hours at 65 miles per hour would travel 214,500 miles. No one would consider such a journey without…
LIBERTYAIR Air Conditioning and Heating
March 23, 2015
Sip on a glass of raspberry or peppermint tea. Both are natural coolants. Drink them to keep your body cool and hydrated.