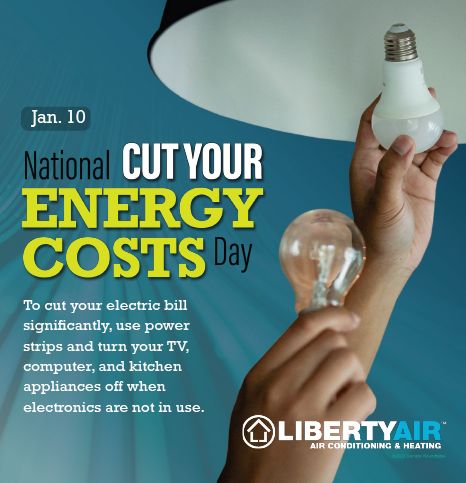 National Cut Your Energy Costs
Day
Wasting energy is not only costly but has a negative impact on our planet. On National Cut Your Energy Costs Day, we focus on this overlooked subject to shed light on ways to reduce energy usage. When mindful of how and why you use energy, you can improve efficiency and lower energy bills for your home and business. Saving money on energy consumption means more money in your pocket for other bills, savings, and enjoyment. A few simple lifestyle changes or home improvements can dramatically reduce your energy consumption. Check out these recommendations from our knowledgeable HVAC company on quick and easy ways to cut your energy costs this year.
A significant aspect of energy efficiency is regular HVAC maintenance to ensure your system is running at its best. Contact our HVAC company today to find out more or schedule AC services with  LIBERTYAIR Air Conditioning & Heating!
Simple Ways to Improve Energy Efficiency
Many homeowners and businesses-owners use energy as they need it without considering how much they are using and the cost. Keeping your energy consumption in mind while doing chores, choosing appliances, and maintaining your property can help you make better choices for your wallet and the environment. These everyday swaps can help reduce your energy bills significantly.
Ensure your house is properly insulated and windows and doors are sealed well.
Replace old windows with new energy-efficient windows.
Turn down thermostats, keeping your home very cold or very warm uses a lot of energy.
Choose a programmable, smart thermostat.
Turning off lights and fans when not in a room.
Use energy-efficient light bulbs.
Only run the dishwasher when it is full.
Only run the washing machine when it is full.
Take shorter showers.
Unplug unused appliances.
Ensure all appliances are energy-efficient.
Keep HVAC clean and well-maintained.
Consider The Switch To Renewable Energy
National Cut Your Energy Costs Day brings awareness to sustainability, saves money, and helps people make more environmentally friendly choices in the new year. Our reliance on fossil fuels can present issues with energy costs, reliability, and consumption rates. This year, many households are switching to solar energy and finding independence from large energy companies. While solar energy can be a significant initial investment, it reduces monthly energy bills by upwards of 90%. Federal and state tax incentives are often available to increase your savings further. Solar energy can power your home, including your HVAC system, and is a reliable, renewable energy source.