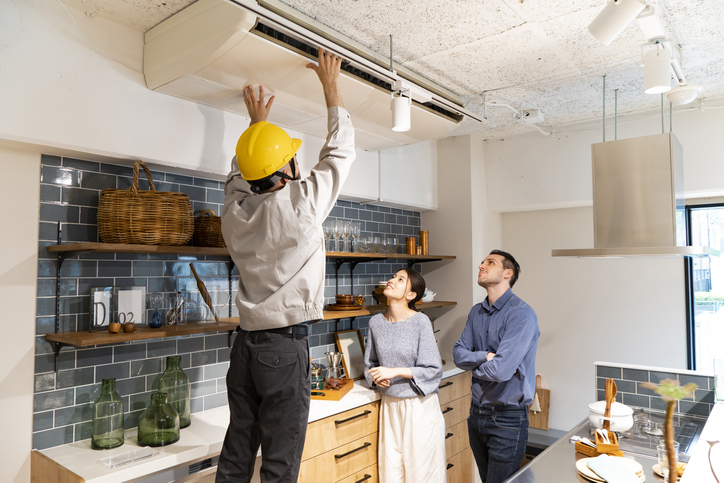 The New Year is the perfect time to focus on your health, pick up new hobbies, and tackle your home to-do list. As part of that, we suggest taking some time during the lull after the holidays to perform some HVAC maintenance to ensure that your system runs smoothly and you're never in need of emergency AC services. Follow this HVAC maintenance checklist from LIBERTYAIR Air Conditioning & Heating, and start your new year with a breath of fresh air!
Contact our AC company today to find out more or to schedule air conditioner repair.
Calibrate Your Thermostat
Programming your thermostat to turn on and off at certain temperatures and times is an easy way to save money, and the new year is the perfect time to check on current settings or program it for the first time. If you're not sure how to do this, an HVAC technician can help you adjust your thermostat or replace it with a more user-friendly brand. It can also be a good time to check on your thermostat's batteries if it isn't hardwired into power. A thermostat with dead batteries won't function and can keep the HVAC system from working.
Clean Filters & Ducts
While you should clean your air filter every three or so months, depending on the number of people and pets in your home, the new year can be a good time to catch up if you let it go a little longer than it should. In contrast, cleaning your ductwork once a year can help to improve the indoor air quality of your home. The New Year is also a good time to consider installing in-duct air purifiers for even cleaner air.
Clear The Outside Unit
When the weather changes and leaves start to fall, your outdoor unit can become cluttered with foliage, dirt, and sticks, clogging the coils and reducing the unit's efficiency. As the new year rolls around, find some time to do a little yard maintenance. Clear away debris that has accumulated and trim back any tree limbs, bushes, or other greenery within two feet of any side of the unit. A unit without ample clearance won't be able to function properly.
Check Weather Stripping
Weatherstripping isn't a direct part of the HVAC system but plays a vital role in retaining the temperature in your home, whether cooling or heating. If your weatherstripping is old or non-existent, you're wasting money on the air seeping to the outside. Check around doors, windows, and sliding glass doors to ensure adequate weatherstripping. It's easy to replace, and you can purchase supplies at local home improvement stores.
Annual Maintenance
Routine HVAC maintenance can catch potential problems before they become larger issues. This is especially important for gas furnaces and heaters, as they don't get as much use throughout the rest of the year. And even though you may not be using the AC as frequently for the next month or so, AC maintenance can ensure that your AC is still in tip-top condition before the heat comes back.