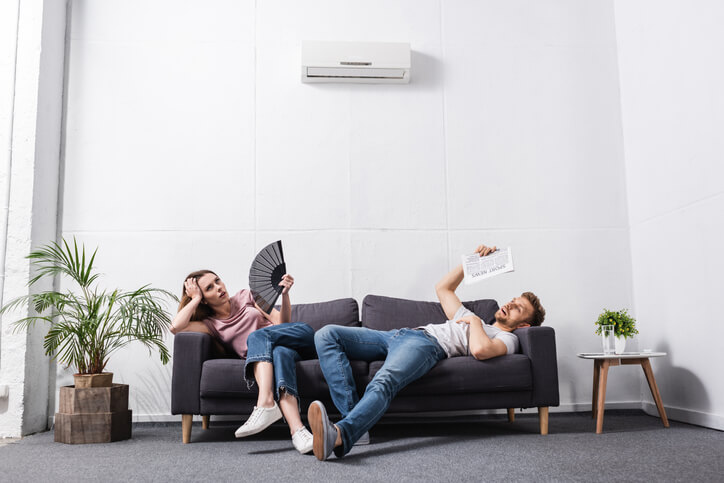 For Florida homeowners, it's crucial to have a working air conditioner year-round. With spring and summer quickly approaching, you don't want to be stuck without a top-of-the-line AC unit; that's why it's important to be on the lookout for any sign that your air conditioning needs repair, including the following. If any of these warning signs appear, it's time to seek help from our HVAC technicians.
At LIBERTYAIR Air Conditioning & Heating, we deliver fast, high-quality AC repairs that fit your busy schedule. Contact our HVAC company today to schedule AC repairs or to learn more about all the AC services we offer homeowners.
Warm Air
When you feel warm air blowing out of the vent, first check your thermostat. Make sure it's switched to cooling mode and set it lower than your home's current temperature. It could indicate a problem with the compressor or that your system is low on refrigerant. Also, you might have a duct problem somewhere that is pulling air from outside rather than from the compressor.
Insufficient Airflow
Poor airflow is a common sign that your AC isn't working efficiently or a blockage is preventing air from moving through your home's ductwork. A clogged air filter, a broken motor, or something more serious may be to blame. If insufficient airflow is a common issue in your home, we recommend investing in an energy-recovery ventilator. It can give your air conditioner a boost by exchanging stale air with fresh air every time your system cycles air.
Bad Odors
Unpleasant odors are one of the key signs your AC needs repair. They can be indicators of multiple issues, including electrical issues and mold contamination. If you smell a musty odor from your AC, there is likely mold in your system; blowing the spores into your home will cause it to spread and also make your family sick. However, if you notice a strong burning smell, you may have a problem with the electrical wiring or the insulation.
Unusual Noises
Most air conditioners make low-level noise as they start up and shut down. But loud, sudden or unusual noises can signal big problems with your heating and cooling system. Rattling or buzzing noises can indicate a loose part, while whistling or grinding noises can signal something more serious.This type of issue won't typically go away on its own, so homeowners should seek the help of our HVAC professionals right away to schedule AC repairs.
Water Leaks
Your air conditioner relies on refrigerant to cool your home and might produce condensation as it operates. However, these liquids shouldn't accumulate or leak into your home. Pooled water or an active leak around your AC unit is an important sign that your cooling system isn't running as it should. Leaks can quickly damage your home and may even lead to serious structural issues, so make sure to call the team at LIBERTYAIR Air Conditioning & Heating as soon you notice a leak.