Refrigerant Pressure
Checks
Summers are getting hotter. Winters are getting colder. And people all over Florida are desperately clinging to their heating and air systems. In efforts to keep your home well-ventilated, it is crucial that you maintain your heating and air systems before something goes wrong. By regularly checking the refrigerant pressures of in-home and light commercial HVAC (heating, ventilation, and air conditioning) systems, you can prolong the lifespan of your A/C system and improve its overall quality.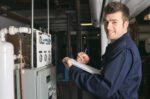 Planned Methods: Checking Refrigerant Pressures
Most people are not aware that minor problems reduce the efficiency of A/C units during the long-term. However, there are preventative methods that you can adhere to in order to preserve expensive air conditioning appliances. Such planned methods of HVAC systems can include any or all of the following:
Checking the system for leakage (refrigerant contains harmful chemicals that may damage respiratory systems of humans and animals)
Replacing air filters
Cleaning the evaporator and condenser coils so that liquid can flow freely
Checking temperatures
Adding refrigerant
Cleaning away dust and other debris buildup that may make equipment parts dry, rusty, and unable to move properly
Regular Checkups Can Save You Money
Regular check-ups are extremely cost-effective. Through planned methods, regular checkups of your refrigerant pressures can result in identification and resolution of minor problems early on before they are exacerbated and begin impacting the unit system as a whole. Detection of minor problems can decrease your electricity bills. To illustrate, during checkups, holes, punctures, and signs of leakage become apparent. Leakage may contribute to unnecessary water flow, heightening the total water usage within the household, and increasing the amount of your utility bill.
Further, because regular A/C checkups help avoid problems, you will be spared from having to purchase new appliances — which may cost you thousands of dollars. Unattended minor problems often lead to major problems which may force you to sacrifice a large amount of funds for proper servicing.
Convenience & Safety When Dealing With Refrigerants
Regularly checking the refrigerant pressures of HVAC systems can make life more convenient and safe.
Consider the gruesome summer weather in Gainesville, FL. Each day, temperatures can easily climb above 100 degrees. Humidity causes the air to feel stuffy and even suffocating. Through regular air conditioning checkups, you can ensure that your heating and air systems perform at the most efficient level. This way, you can look forward to walking into your cool and refreshing home after a long day, and you'll instantly feel relieved and prepared to unwind.
Planned maintenance of your A/C system is also crucial because it provides health benefits. By law, hospitals and medical offices are required to keep a cool atmosphere. Cool air circulation kills bacteria, germs, and other infectious organisms. Meanwhile, warm and/or moist air is often the host and ideal environment for bacteria that causes illnesses. Your home should have the same protection. Through a properly functioning air conditioning system, you can be sure that illnesses — even minor illnesses such as colds — do not become widespread and worsened. Keep your home and family safe with LIBERTYAIR.
The benefits of regular planned maintenance of your heating and air systems are incomparable. We serve many areas throughout Gainesville. If you need a Gainesville air conditioning repair company to provide a standard checkup of your appliance, contact us today.