A properly functioning air conditioning unit will cause condensation to occur during the cooling process. But when other factors interfere with normal activity, the temperature can drop and cause the condensation to freeze. There are a few reasons why your evaporator coils are freezing, which include restricted airflow, issues during the heat exchange process and even electrical problems. However, these are common issues that can result from a number of underlying complications.
It's hot outside but my air conditioner coils are frozen. What can I do?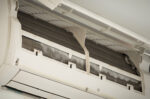 Gainesville A/C Emergency Services: Frozen Evaporator Coils
If you've noticed that your air conditioner coils are freezing, then it's time to call LIBERTYAIR to identify the issue and repair the problem. We advise that you shut off the air conditioner to avoid damaging the unit. This also allows the coils to defrost so our technicians can find the root of the problem more quickly.
Homeowners who pride themselves in being handy around the house may want to investigate their air conditioners before calling us. There are a few simple steps you can take to help identify the problem before you give us a call.
Frozen Coils? Take these steps before you call LIBERTYAIR:
Turn off the air conditioner and allow the frozen coils to defrost.
Remove the filter and replace it if it's dirty.
Once the coils have defrosted, check to see if they are abnormally dirty.
Check the strength of the batteries in your thermostat. Malfunctioning thermostats are often an underlying cause of frozen coils.
Turn the air conditioner on and observe the airflow in each room, noting where air pressure feels weak, nonexistent or too warm.
If ice has accumulated on the coils again, turn off the air conditioner and call LIBERTYAIR.
Once your air conditioner is up and running, you'll want to schedule regular maintenance appointments with LIBERTYAIR to prevent the coils from freezing in the future. Spring is a great time to schedule coil maintenance to ensure your air conditioner works well all summer long. Many units can gather dirt and grime during the winter, and it's always a good idea to check the air conditioning filter before turning the unit on for the first time after several weeks. During our air conditioner service call, we can check the health of the coils as well as refrigerants, blowers and the overall functionality of the appliance. A simple and affordable planned maintenance appointment can increase the lifespan of your air conditioner.
Should I call for an emergency A/C repair?
If you're experiencing frozen evaporator coils, it's a good idea to call a professional, especially if the coils are dirty or if they have not been maintenanced recently. At LIBERTYAIR, our cooling professionals provide coil cleaning, refrigerant filling and repairs, and overall inspections to get your cooling unit running properly. Our technicians are available from 7 a.m. to 11 p.m., Monday through Saturday, and we never charge an overtime fee. You can count on LIBERTYAIR for your frozen coil emergencies.