Help! My heating and cooling appliance isn't blowing air!
It doesn't matter what the temperature is outside, if your heating or cooling appliance isn't blowing air through the vents, it's time to call LIBERTYAIR. In Gainesville, it can take just a couple of hours for your home's temperature to rise or fall out of a comfortable range, which can leave you shivering or sweating. Other technicians may take days to get to you, but we understand the need for prompt and reliable emergency services and repairs when your air conditioner or heater isn't blowing air through your home.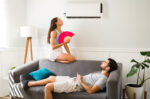 A/C or Heat Not Blowing Air? Call LIBERTYAIR!
It doesn't take long for things to heat up in a Florida home, which is why our heating and cooling technicians are available from 7 a.m. to 11 p.m., Monday through Saturday. If you can't feel air pressure coming out of your vents, then your air conditioner may need to be serviced or repaired.
What To Do If Your A/C Isn't Blowing Air
Hold your hand up to the vents in each room to determine whether there is a complete lack of airflow or if airflow is restricted in only certain areas. Make sure the registers are completely open.
If there is a lack of airflow, make sure your air conditioner is on. If the unit is on but the fan is not running, lower the temperature setting until you hear the fan kick on. If the fan does not turn on, call LIBERTYAIR to fix your A/C fan.
If the fan does kick on, but airflow is still restricted, check your air filter. If it is dirty, replace it.
Check to see if your air conditioner evaporator coil is frozen. If it is, turn off the unit and allow the coil to deice. If the coil is not frozen, and you still have a lack of airflow, contact LIBERTYAIR.
The most common problems that cause a lack of airflow include frozen coils, broken fan and restricted airflow due to dirty air filters or vent obstruction. However, there are many other issues that can lead to minimal airflow, so it may be necessary to ask the professionals. At LIBERTYAIR, our technicians are experienced in troubleshooting, servicing and repairing air conditioners so your home is quickly back to a comfortable temperature.
What To Do If Your Heat Pump, Heater or Furnace Isn't Blowing Air
Unfortunately, we often find that our heaters don't work in the middle of the night when we awake to a chill. This leads to many homeowners trying to diagnose outside units in the dark. As though that isn't difficult enough, a heater that isn't blowing air through the vents can be caused by several different factors, depending on the type of heater (electrical heater, heat pump or gas furnace) and the quality and cleanliness of the vents.
In order to prevent these annoyances in the night, we recommend having your air vents cleaned during the fall before you rely on your heater for daily use. Autumn months are also the perfect time to schedule your heater's annual maintenance to ensure it's working properly before the first cold front hits. However, if your heater isn't working, you can count on LIBERTYAIR to diagnose the problem and fix it quickly. Our emergency heating service technicians are available to help remediate any issue that your unit develops.
LIBERTYAIR Gets Your Airflow Moving
Trust LIBERTYAIR for fast and reliable emergency repairs and services on a number of air conditioner and heating units. We are experienced and knowledgeable on several types of equipment, including Amana, Goodman, Carrier, Rheem, Bryant, American Standard, Lennox, Comfortmaker, Tempstar and York.