Flue Draft
Planned Maintenance
Monitoring your flue draft plays a major role in protecting and maintaining your home's heating system.
The chimney in your home serves the purpose of transporting harmful chemicals from your home into the air when you use heat. The flue draft, or the pipe within the chimney, allows the gases to exit the chimney and helps to keep heat within your home. Over time, however, flue drafts may become damaged. Long-term exposure to noxious chemicals, fires, lightning and chemical reactions can tear, split and even crack your flue draft without you being aware. Once this occurs, your home may become unsafe, unpleasant, and costly.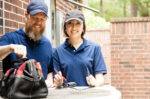 Save Money with Maintenance
If not checked, the flue draft in your chimney may develop holes and punctures that reverses heat retention in your home. Heat that is used to keep your home warm and comfortable may be released into the air. This is like having all of your windows and doors open during North Central Florida's coldest seasons — pointless!
In addition, as your flue draft releases heat into the air, your heating system may naturally overwork itself to compensate for the lost air. This can place unneeded pressure on  your HVAC system and and waste additional energy. It may overwork itself to the point of self-destruction, or it may cause your electricity bills to climb. Instead of enduring these financial burdens, you should contact a professional at LIBERTYAIR. We have the knowledge, tools and expertise to help prevent problems with your flue draft to save you money now and in the future.
Keep Your Home Safe With Regular Chimney Maintenance
Not only can damages in your flue draft be costly, but they can make your home unsafe, even hostile to live in. When combustion occurs, dangerous chemicals can mix and spread rapidly. These volatile chemicals include carbon monoxide, hydrogen sulfide, ammonia, and nitrogen. They often release toxic fumes when they are burned and/or mixed which can create a stubborn, burning odor in your home. They may also contribute to fires in your flue draft that could ultimately lead to the destruction of your home.
The presence of these noxious chemicals in your home's circulating air and heating systems, (even those that are odorless), can be devastating to your family's health. Exposure to noxious chemicals for long periods of time results in headaches, fatigue, serious respiratory problems, brain injury, unconsciousness, and even death. A visit from LIBERTYAIR can help avoid a tragedy in your home by monitoring your flue draft, and verifying that volatile chemicals are being sent where they are supposed to — away from your home and into the atmosphere.
Light Commercial Heating Repairs in Gainesville, FL
The flue draft plays a major role in your home's heating system. Here's what an air and heating system professional at LIBERTYAIR can do for you:
Clean your flue draft of debris, small animals, dirt and dust
Restore broken, torn, ripped and punctured flue drafts
Check for obstruction of heat, air and chemical flow
Check your flue drafts structural integrity
Advise you on proper heating care techniques
Indicate problems early
And more!
Florida may be known for its sunny weather, but there is no doubt that it has its share of chilly — even freezing — nights. At LIBERTYAIR, we offer 24-hour services to ensure that your HVAC system is operating smoothly and effectively at all times. A properly functioning flue draft can save you energy, money, and your overall heating system.
Call us today for high-quality planned maintenance on your flue draft.